Hair transplant abroad and in overseas: Cheap but good
No matter in which country: A good hair transplant requires a lot of experience and precision work! However, a hair transplant by a renowned hair surgeon is not cheap and that is why many men and women are desperately looking for cheap but good providers abroad and in overseas. However, in the search for cheap alternatives, there are unfortunately more and more dubious providers on the market. Why even the ISHRS, the largest worldwide hair surgery association, warns against cheap hair transplants in hair factories and how you can find a good, but equally high-quality and cheap hair transplant abroad and what you have to watch out for, you can read here:
Important and ahead! "CHEAP and MEGA CHEAP hair transplant": What Hairforlife does NOT offer!
Are you looking for a cheap surgery and the MEGA FAVORABLE offer for a hair transplant?
4000 grafts in 3 hours including flight, excursion, taxi ride and food for 3000 euros, no, even better for 1,999 euros including massage on site?
Then Hairforlife → is NOT the right contact and you will not find what you are looking for here!
All Hairforlife cooperation doctors are hair transplant specialists with many years of experience, so-called hair surgeons, personally checked by me, Andreas Krämer, owner of Hairforlife and proven with sufficient results.
You can read why Hairforlife does not work with cheap clinics and what risks are involved in the article "Risks of a hair transplant" and you can also read detailed information about the possible negative consequences of a failed hair restoration surgery in the article"botched hair transplant and legal help".
A Transplantation of a large receding hairline quickly costs a VW Lupo and the hair transplantation of a bald head even a VW Golf
While small bald areas such as receding hairline may cost 3000 – 5000 Euros, larger receding hairline surgeries in Germany can cost the equivalent of a VW Lupo and bald head transplants even the equivalent of a VW Golf.
It is therefore not surprising that many people affected by hereditary hair loss are looking for cheap alternatives for hair transplant abroad and you can quickly find many offers on the Internet.
Cheap hair restoration in overseas: Lower overall costs for the clinic result in lower prices for the patient
An hair transplant can indeed be cheaper in other countries in overseas, see also our cost comparison. Countries such as Turkey, Poland, Slovakia, the Czech Republic, Russia and others simply have lower costs for rent, staff and medication than many Western European countries, which ultimately has a significant impact on the price of a transplant
This is one of the reasons why many people research hair transplants in Turkey – the Mecca of hair transplants – or in neighbouring countries such as Cyprus. Countries such as Poland, the Czech Republic and Hungary are also considered very affordable.
Hair transplantation abroad: Inexpensive but also higher risks in a "hair factory"!
Especially with hair restoration abroad, it has been shown that although the transplantation can be purchased quite "cheaply", one should be very careful overall and the dangers increase significantly. Often it is a matter of so-called "hair factories", which lack the finest workmanship.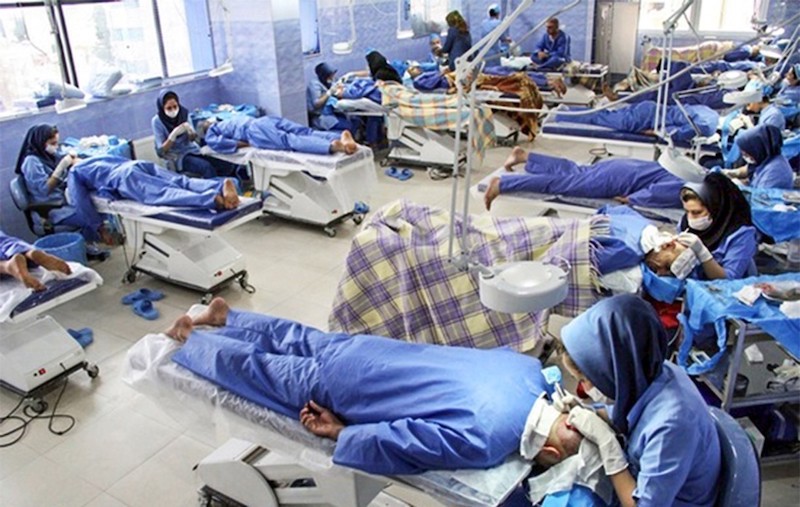 Patients, on the other hand, are processed like on an assembly line, 4-5 patients per day, in different surgery rooms, or even several patients are operated on in the same room, as can be seen in the picture above. Under time pressure, they try to "get through" as many patients as possible, so that a lucrative profit is achieved despite low prices. In the end, only the clinic wins, but not the patient, and there are many dangers to be found in such mass processing.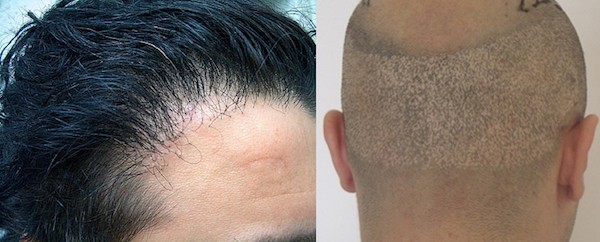 "Cheap hair surgery" and the dangers of Patchwork Rug and toilet brush style
As often reported here on Hairforlife, the number of botched hair transplants is rising sharply.
Hairforlife receives more and more enquiries from patients with unsuccessful and disfiguring results, mostly performed at cheap hair clinics in faraway countries, asking how to correct the botched results. There has also been a sharp increase in the number of enquiries to medical lawyers regarding miserable results.
Assembly line work of the hair factories
Other patients report 3500-4000 transplants in 3 hours for FUE, for which renowned and experienced hair surgeons estimate 2-3 days. In very many cases, the procedures were cheap, but it cannot be assumed that they were of high quality.
Apart from the fact that the transplants are removed far too quickly and often without any care, it is also often the case that unsuitable FUE extraction instruments are used and that there is a lack of know-how regarding the treatment of donor areas/extractions and also regarding the insertion of the transplants.
A cheap hair transplant abroad, but sudden problems on site
The temptation to save a few thousand euros on a transplant is understandable. However, we would like to point out problems that can occur on site, as we have often been told by those affected.
Not infrequently, things were promised by email or WhatsApp that were not kept on site. On site abroad, other doctors are suddenly present as previously discussed, or there is even no doctor present during the hair transplantation and important surgical procedures are carried out by untrained staff, or more patients are treated on one day than was stated in the e-mail before the operation.
Caution: ISHRS.org also expressly warns against hair factories and so-called black market clinics
The world's largest hair surgery association, ISHRS.org1 , with more than 1000 doctor members, has also issued an explicit warning in its "Fight the Fight" campaign against the cheap clinics and the "black market" that are often found abroad and overseas. The ISHRS also sees the dangerous development of hair factories, where often the entire operation is carried out exclusively by inexperienced and unlicensed technicians. The ISHRS strongly warns not to be lured by bargain prices, dubious advertising and misleading information combined with "flat rate" or "all-inclusive" prices.2
According to the ISHRS association, the black market consists of a number of dubious clinics, most of them often based in Turkey, which are often officially staffed by a doctor according to the website, but this is only to mislead the patient and in fact the entire operation is performed by non-doctors with little know-how and experience.2
Such illegal practices and unlawful actions of these clinics often result in severe injuries, infections, scarring, completely decimated donor areas with moth-eaten appearance as well as irreparable unaesthetic results such as unnatural looking hairlines with incorrect growth direction, poor growth rates and on top of that cobblestoning, which is caused when grafts are placed too high to the surrounding scalp and also pitting, which is the result of the grafts being placed too deep.3
The ISHRS has also posted some pictures online regarding the risks of such failed operations by low-cost clinics.4
In principle, the following applies to hair restoration abroad and overseas: Hair surgeries are special, a lot of know-how and experience are necessary and it is a medical Procedure!
This is often wrongly assumed by laymen, but it is by no means the case that a doctor without a lot of experience and with little know-how will achieve good results right from the start. Real specialised hair surgeons with a lot of know how, a lot of experience and many proven results and who can adapt to any hair situation, no matter how difficult and individual, are rare worldwide!
A required Repair Surgery is often considerably more expensive than the inexpensive initial surgery: The better solution is to choose a renowned specialist right away
At this point, I can't help but urge you to turn to a renowned specialist with the necessary know-how, experience and proven results when it comes to hair restoration surgery.
Because a hair surgery procedure that appears favourable at first glance can ultimately become expensive if corrective interventions by a specialist are necessary. For a long time now, such corrective interventions have not always been possible.
Always rely on experience and quality instead of quantity: Hairforlife cooperation doctors with years of experience and proven results – not cheap, but proven
Once again clearly mentioned: At Hairforlife you will NOT find the mega-cheap doctor or the mega-cheap clinic!
Hairforlife cooperating doctors are always doctors who have been specialising in hair surgery for years, who understand their trade, who have sufficient proven results and who have been personally checked by me, Andreas Krämer, owner of Hairforlife.
Have you already had a hair restoration and did it fail?
Have you only now found Hairforlife AFTER you have already had a botched hair transplant at home or abroad and are looking for help on what you can legally do and how you can correct the procedure?
---
Hair transplant abroad: Contact the expert for advice beforehand
"Are you interested in a hair transplant abroad but would like clarification beforehand? Or have you already had a failed operation and would like a free online consultation including case assessment? I will be happy to advise you!

Andreas Krämer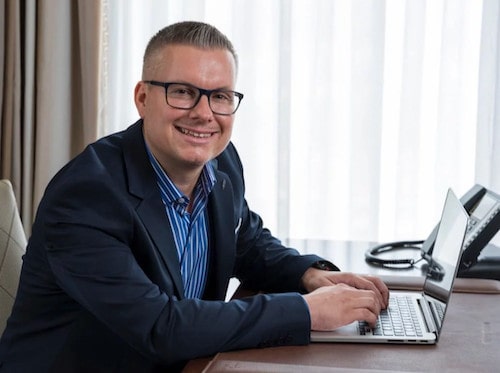 Feel free to contact Hairforlife at any time. The chances of compensation are better for hair transplantations carried out in Germany. But also in the case of operations carried out in other countries, there is a good chance of recovering at least some money, which may be a great help for the corrective operations.
If you are interested in a hair transplant abroad, or if you have any questions, please feel free to fill out the contact form .
Yours sincerely,
Yours, Andreas Krämer
---
Sources/References/Author
1 https://ishrs.org/
2 https://fightthefight.ishrs.org/about/
3 Dr Samuel M. Lam, MD, Plano, Texas, USA https://www.facialplastic.theclinics.com/article/S1064-7406(13)00099-0/pdf
4 https://fightthefight.ishrs.org/beware-risks/
Author