Hair transplant with FUE By Dr Lars Heitmann, Zurich – Switzerland
https://www.fue-haartransplantation.ch/en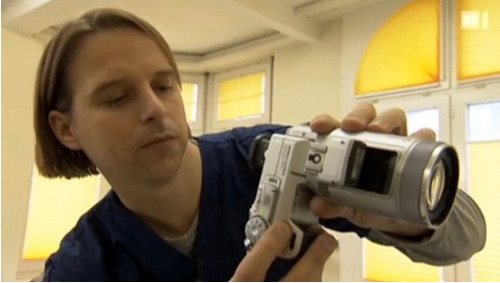 Dr. Lars Heitmann, a German citizen with a practice in Zurich, switzerland is a hair surgeon with many years of experience in the field of hair transplantation. Dr. Heitmann is known through television appearances on Sat 1 or, for example, on public television SWR. Dr. Heitmann has also been seen on Swiss television-SRF.
Dr. Lars Heitmann is a self-concerned person, has specialised in hair transplants, meanwhile has years of experience and very great know-how and is based in Zurich / Switzerland. He is offering Hair Transplant in Switzerland in Zurich (read also fue-haartransplantation.ch/en) since 2010.
Dr. Heitmann was himself affected by hair loss years ago and underwent several hair transplantations. His first hair transplant was not at all satisfactory for him and showed an unnatural result. These experiences, literally on his own body, contributed considerably to the fact that Dr. Heitmann subsequently turned exclusively to hair surgery and focuses on the greatest possible naturalness and density, so that a hair transplant is always aesthetically excellent in the result, but is never recognisable as such.
FUE – Follicular Unit Extraction
Several years ago, Dr. Heitmann specialised exclusively in the hair transplantation method "Follicular Unit Extraction – FUE". The clinic is located in Zurich / Switzerland.
FUE hair transplantation in Zurich, Switzerland without assistance
Dr. Lars Heitmann is one of the few hair surgeons in the world who performs all steps personally, without delegating any surgical steps to assistants. Exclusively manual graft removal, formation of the recipient openings and insertion of the grafts.
Dr. Heitmann uses a Zeiss head loupe (head loupe microscope) with 8x magnification for all steps: extraction, inspection of the grafts, categorisation of the grafts, then also for the recipient incisions and for the insertion of the grafts.
Watch the following video for a few insights into an FUE with Dr. Heitmann.
Dr. Heitmann: "Dense packing" and natural hairlines
Today, Dr. Lars Heitmann is considered, among other things, a specialist for extremely natural hairlines and results, but also a luminary for results with so-called "Dense Packing" – a very dense "packing" in a special area, which he achieves according to Canadian and US-American models using the most filigree instruments and, if necessary, "Lateral Slit Grafting". With up to 70 FU's per square cm, Dr. Heitmann can achieve very good densities.
The picture below shows a patient with an estimated density of 30-35 FU's per square cm on the left and a patient of Dr. Heitmann with a density of 60 FU's per square cm on the right.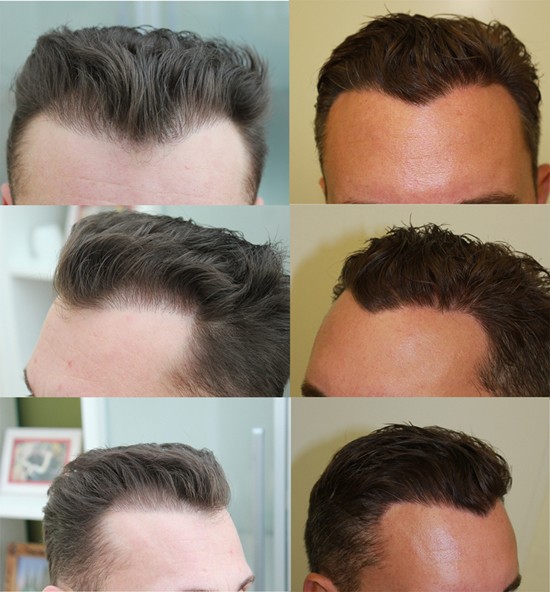 Dr. Heitmann in the media in Germany and in Switzerland
Dr. Heitmann is a welcome guest in the media. For example, he has appeared in Germany on SAT 1 Das Magazin, SAT 1 Am Abend, SWR or in Switzerland in SFR channel.
TV Case Marco Swiss Television
Also have a look at the hair transplant report with the participation of Dr. Heitmann and Hairforlife Andreas Krämer on Swiss television – health magazine Puls:
http://www.srf.ch/play/tv/puls/video/gegen-die-glatze-gibts-keine-wundermittel?id=14c62cea-bdd4-4493-a5b7-aa27c12fbdd3
https://www.srf.ch/play/tv/puls/video/die-glatze-mit-den-eigenen-haaren-fuellen?id=dec8726b-2543-4da3-9093-c71db174e1c6&station=69e8ac16-4327-4af4-b873-fd5cd6e895a7
Take a look at Marco's final result here.
TV Case Alexander SWR Television
Click here to go to the bottom of the SWR hair transplant reportage Case Alexander with result.
Experience and Reviews of Producer J.J. Hansen
Click here to read the hair transplant review from J.J.Hansen`s surgery with Dr. Heitmann in Switzerland, Zurich.
Address/Contact Dr. Lars Heitmann with Dr. Heitmann, Zurich, Switzerland
Website: https://www.fue-haartransplantation.ch/en
Address/contact:
Hair Clinic Dr. Lars HeitmannForchstrasse
1868032
Zurich – Switzerland
Tel. +41 (0) 79 275 80 80Fax
+41 (0) 43 539 44 53
Mail: info@fue-haartransplantation.ch


Do you have any questions about the work of Dr. Lars Heitmann?
With pleasure! Hairforlife will be happy to help you with any questions you may have about Dr. Heitmann and operations in Zurich / Switzerland. Please fill out our contact form.