http://www.forhair.com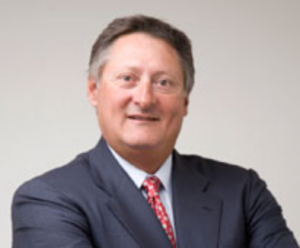 Dr. John P. Cole's spectrum of hair transplantation methods is incomparably wide. He is known as the specialist for the modern and minimally invasive FUE method (Follicular Unit Extraction), which he practices at the highest level both in Atlanta and in various other practices (Maryland, Cleveland, Ohio, Charlotte, North Carolina, but also worldwide and now also in Ankara, Turkey). Craftsmanship and highly developed technical instruments are the hallmarks of his work in hair transplantation surgery, which has now become an art form (Michelangelo Award and Archimedes Award of the Italian Society of Hair Restoration, DHI Golden Medal, Golden Follicle Award of the ISHRS and countless other awards).
After completing his medical studies, he dedicated himself above all to the further development of modern transplantation methods and is regarded worldwide as a "pioneer" for FUE.
The CIT ® (Cole Isolation Technique) method and its further technical development, the Cole Isolation Technique (CITTM), are hallmarks of his skills. Dr. Cole is undoubtedly the world's best-known doctor in the field of refining FUE, the most modern and technically advanced method. His practical field of application includes common scalp hair transplantation (FUE), natural donor area reconstruction (donor recharging), but also scar correction and especially BHT (body hair transplant). Body hair transplant surgery is considered one of the most difficult methods and is currently only used successfully by very few doctors (including Hairlineclinic by Dr Özgür, Turkey).
Dr. John Cole has made a significant contribution to the further development of modern methods, especially in the field of medical device development. In the meantime, he has developed medical instruments for hair transplantation at the highest technical level, all of which are manufactured individually. For both the lateral slit method and the development of extraction devices, namely the punch, his institute now supplies the finest and sharpest cutting edges worldwide, thereby virtually eliminating both skin and hair follicle injuries during treatment. "Coleinstruments" (http://www.coleinstruments.com) is a leading brand name for medical instruments in the field of hair transplantation. Its most recently developed electronic extraction device, named PCID, embodies a unique precision device that eliminates all existing concerns about motorised hair follicle extraction.
The overall concept of the PCID is to adjust all individual parameters of human skin and hair characteristics accordingly for each patient and to adjust them via presets in a central control unit. In this way, the complex variety of types of human hair structures is taken into account in each individual case. Especially the precision and depth control of the device, but also the adjustable speed combined with the sharpest blades meet the highest demands.
Already during my first clinic visit in Atlanta in 2006, I was able to convince myself of Dr. Cole's artistry and his warm personality.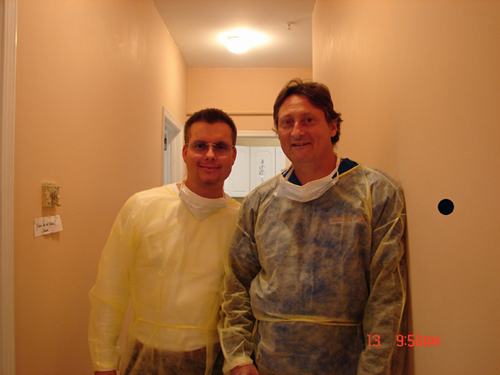 In the meantime, his main interest is to pass on his skills in order to achieve the highest standards worldwide. In this respect, he acts as a teacher for future, as well as already established doctors, by imparting both his technique and knowledge on an international level through training courses and application training. His best-known students were Dr Jean Devroye, Dr Christian Bisanga, Dr Patrick Mwamba, all now well-known hair surgeons of worldwide repute.
Dr. John Cole is also a member of numerous international societies for hair surgery.
International Hair Transplant Training Centre in Ankara – Turkey
Quality assurance and the highest standards are to be essential elements in hair transplantation in the future. Therefore, it is in Dr. Cole's interest to consolidate and pass on these standards through an International Training Centre, which he has established in Turkey, Ankara, together with Dr. Özgür's Hairlineclinic. Together with Hairforlife and Dr. Özgür's Hairline Clinic, a new, innovative training centre that meets the highest quality standards has therefore been established to train and educate hair surgeons.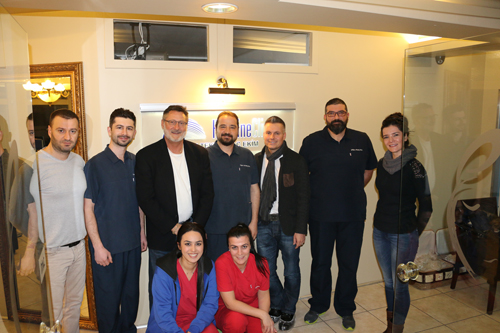 Starting from top left: Gökhan Dogan/Clinic Manager of Hairlineclinic, Dr. Khan, Dr. Cole, Dr. Özgür, Andreas Krämer/Hairforlife, Dr. Akin and Hairlineclinic staff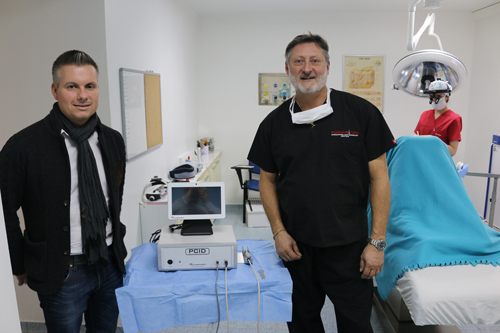 Andreas Krämer on the left, Dr. John P. Cole on the right, during Dr. Cole's clinic visit to Dr. Özgür's Hairlineclinic, January 2015
Contact/Address Forhair Dr. John Cole
Website: www.forhair.com
Address:
Forhair Dr. John Cole, 1070 Powers Place Alpharetta, Georgia (Atlanta), 30009 U.S.
Tel: 1-800-368-4247

Mail: consults@forhair.com
Do you have any questions about the work of Dr. John Cole?
With pleasure! Hairforlife is happy to assist you with any questions you may have about Dr. John Peter Cole.
Hair transplant training, workshop for doctors and hair surgeons
Are you a doctor or hair surgeon interested in hair transplant training or workshops or would you like to receive further training? Please fill out the contact form.