The FUE method is called "Follicular Unit Extraction" = FUE hair transplantation and is currently the most modern method. Follicular Unit Extraction means "follicular unit" and "extraction" = extraction/removal
It is assumed that the hair on the head does not grow individually, but in natural hair follicle groupings, the so-called follicular units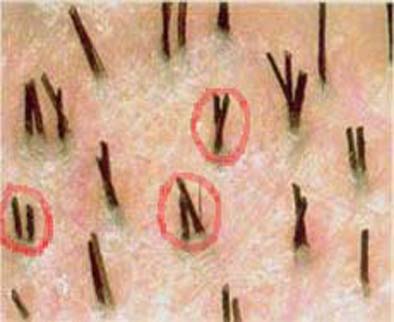 With the Follicular Unit Extraction method, no strip (see also FUT transplantation) is removed from the extraction area, but the individual, natural hair bundles (follicular units = FU) of the hair are removed individually.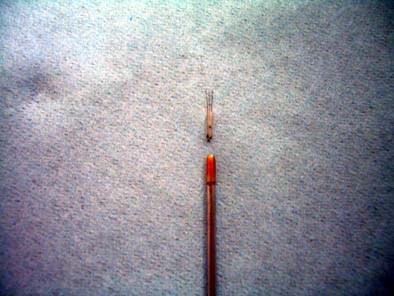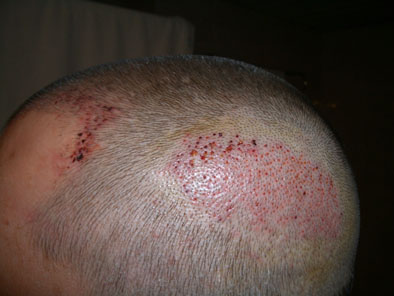 The follicular units are removed step by step by means of small punches, usually with a diameter of 0.75 – 1 mm, which are either mounted on a manual handpiece (manual removal), or on an electronically supported removal instrument (so-called micromotor), or in a handpiece via robot (robotic hair transplantation).
The inventor is Dr. Ray Woods from Sydney, Australia, who, according to his own information, developed this technique as early as 1989.1
However, the term "follicular unit extraction" was coined by Dr. William Rassman from Los Angeles, USA in 20022.
The modern era of follicular unit extraction surgeries then began in 2002 with other hair surgeons such as Dr. John Cole, Atlanta, USA, Dr. James Harris, Denver, USA, Dr. Paul Rose, Miami, USA, or Dr. Robert Jones, Toronto, Canada. But also in Turkey, Dr. Özgür Öztan founded the Hairlineclinic in 2002 and started with FUE.
---
Development steps of FUE and different harvesting techniques: Manual harvesting, micromotors, robots
FUE has gone through various stages of development to date, from manual to motorised and blunt to sharp and serrated trumpet punches (hollow needles) to robots. Robots are also already in use to assist in the harvesting and formation of the recipient orifices (see also the article FUE graft harvesting: manual, micromotor, PCID, WAW, U-graft, robot).
ISHRS name change in 2018: follicular unit extraction becomes "follicular unit excision"
In the report "Donor Harvesting: Follicular Unit Excision"3, Dr Anil Kumar Garg from Indore, India explains in detail the name change of the ISHRS from Follicular Unit Extraction to "Follicular Unit Excision".
In 2017, a naming committee came from the International Society of Hair Restoration Surgeons (ISHRS4) and led by Dr. Parsa Mohebi, Los Angeles, USA concluded that the term "Follicular Unit Extraction" was inappropriate and misleading as it is a histological term and not an accurate anatomical and surgical term5 The panel therefore recommended changing the term from Follicular Unit Extraction to Follicular Unit Excision as it explains the two steps of the process: incision and extraction. The term also more clearly implies the surgical component and that it is a surgeon's procedure and should not be performed by technicians.5
The new current ISHRS definition is:
Follicular Unit Excision is a surgical technique that refers to a circular incision of the skin around the follicular unit bundle or group of hair follicles to extract a full thickness skin graft containing hair follicle(s), adipose tissue, dermis and epidermis.5
---
"I have not regretted the step to FUE hair transplantation for a second and I am still very happy with the result"

Songwriter/DJ/ J.J. Hansen
---
Intermittent Follicular Unit Extraction Hair transplantation in several stages
Intermittent Follicular Unit Extraction hair transplantation with short graft storage phases is the further development of FUE with the aim of greatly minimising the existing risks such as a poorer growth rate or increasing the chances of a good growth rate. Read more detailed information on "Intermittent FUE".
FUE and scarring
The FUE technique is currently considered to be the most modern method of hair transplantation. There are various speculations on this topic regarding possible scarring due to the hollow needles used.
Supporters of the strip hair transplant method counter that many scars are distributed over the removal area. FUE supporters, on the other hand, emphasise that there are virtually no traces/scars, with some referring to Follicular Unit Extraction as a "scar-free technique".
The fact is, scars occur with every hair transplant. It is also possible that an experienced patient can recognise the fine scars as FUE scars. However, the fine FUE scars are usually not very noticeable (depending on how they are distributed and with which punch sizes the grafts/FU's were removed), especially for a layman.
Pictures of a successful extraction
Take a look at this example of an FUE extraction with 3000 grafts.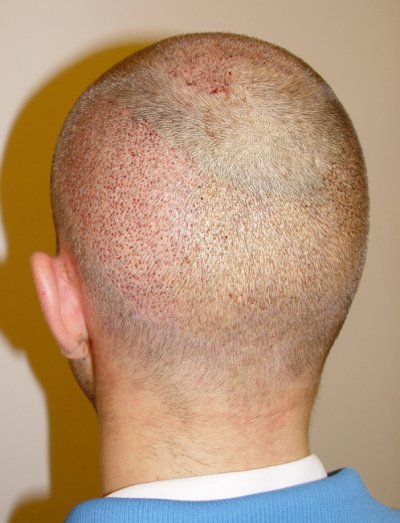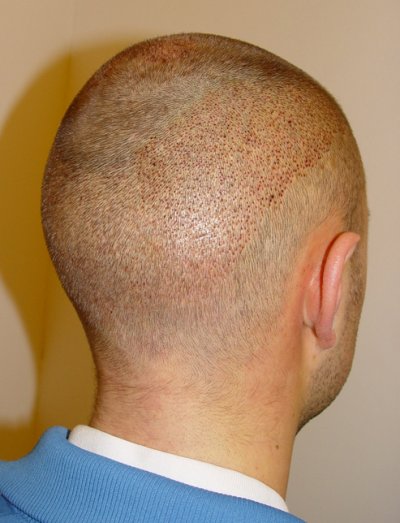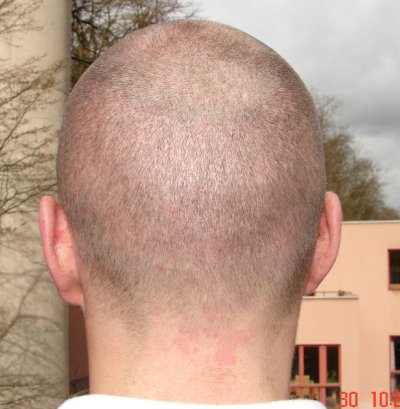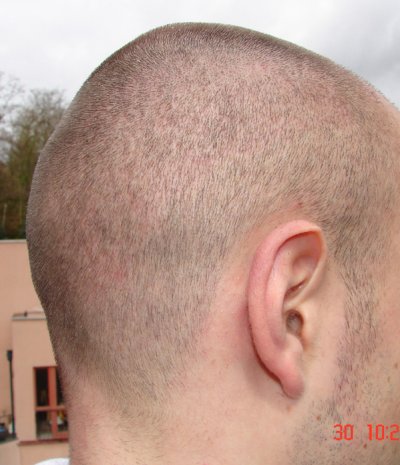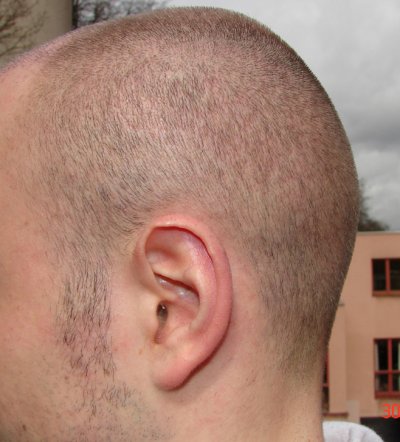 The discussion is therefore rather negligible, since you can hardly see any traces even with hair that is about 1 – 2 mm long. One can therefore speak much more of "barely visible scars".
Thus, an FUE procedure has the advantage that one can still wear one's hair short after the operation without anyone being able to recognise a hair transplant.
Example of a failed harvesting with a micromotor
However, the situation is completely different, as shown in the link above, if too much hair is removed from one area during an FUE, or if too much surrounding hair are destroyed due to too rapid removal and/or the use of unsuitable instruments FUE and the decimated hair crown is clearly visible even to outsiders. Here you can see what such a suboptimal FUE removal can look like: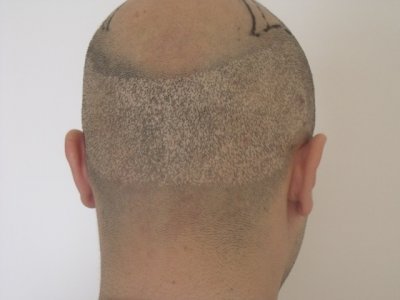 This means that the goal of being able to wear the hair short after an FUE has completely failed!
TV report Pulse on Swiss Television
Please also have a look at the videos/television reportage of the Swiss television SRF health magazine Puls. In these two reports the FUE technique is explained in more detail: FUE on Swiss Television SRF Puls Part 1 – History, consultation and FUE surgery and the FUE of Marko Puls Gesundheitsmagazin Part 2 – The result.
Example of donor after transplantation with follicular unit extraction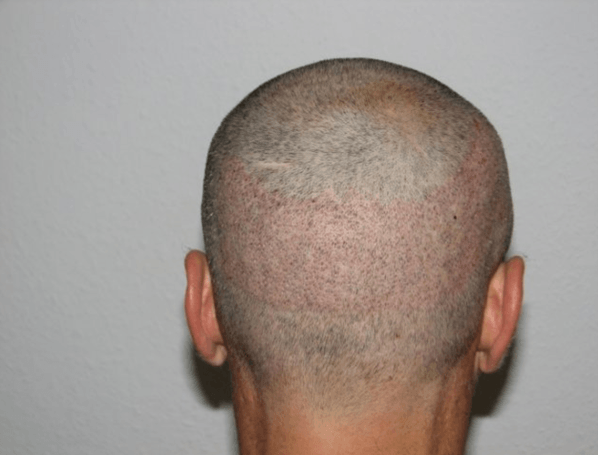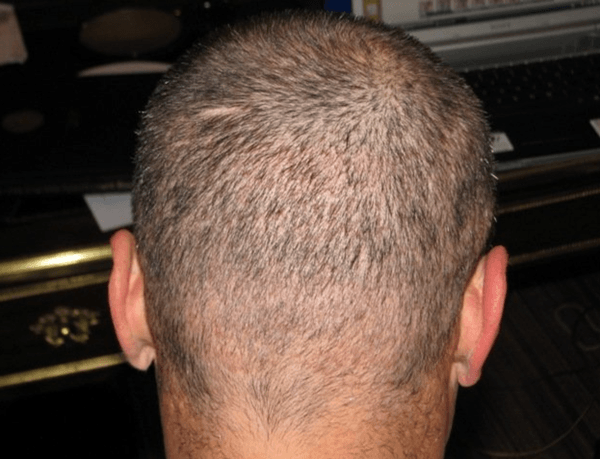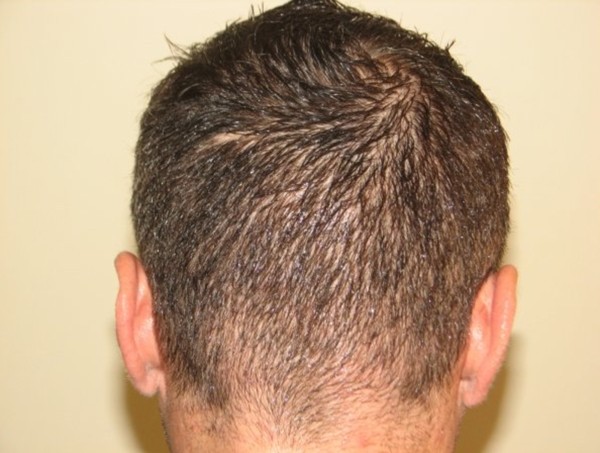 The advantages of FUE hair transplantation:
– Good growth rates when FUE is performed by a specialised and experienced doctor
– Because the grafts (FU`s) are very small, the grafts can be densely placed.
– Less invasive
– Hair can be cut very short
– Since little or no skin is transplanted, there are usually no scalp dimples-
– Body hair can be transplanted
– Hardly any visible scars
– Good and fast healing

The disadvantages of Follicular Unit Extraction:
– The operation takes a very long time
– Only a few grafts can be transplanted in one operation day compared to strip
– Higher costs
– Few hair surgeons still master this method
– Full shaving is often necessary (alternative: FUE partial shaving, or FUE without complete shaving)

The cost of Follicular Unit Extraction
Please read the important information regarding costs and prices in the chapter > Costs of hair transplantation and women are also welcome to read our chapter > Hair transplantation for women .
Sources/References/Author
1 http://www.digitaljournal.com/pr/2781992?noredir=1
2 https://pubmed.ncbi.nlm.nih.gov/12174065/
3 https://www.ncbi.nlm.nih.gov/pmc/articles/PMC6371717/#ref11
4 https://ishrs.org
5 https://www.ishrs-htforum.org/content/28/1/1.1
Author