Dr John Peter Cole (USA), Dr Özgür Öztan (Turkey, FUE Hairline Clinic) together with Hairforlife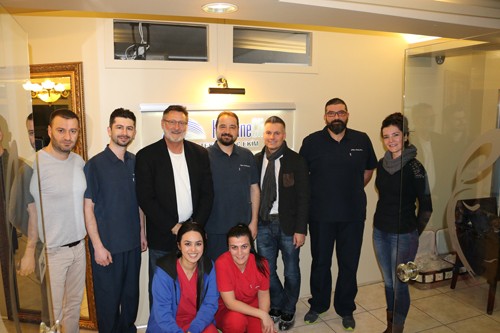 Starting from top left: Gökhan Dogan/Clinic Manager of Hairlineclinic, Dr. Khan, Dr. Cole, Dr. Özgür, Andreas Krämer/Hairforlife, Dr. Akin as well as Hairlineclinic staff
Hair transplant training for doctors and hair surgeons at the highest level in Turkey in Ankara
Hair transplants are currently a fundamental part of cosmetic surgery. Men are particularly sensitive to the inevitable loss of their main hair. But women are also increasingly interested in hair transplantation, as numerous cases in clinics of well-known doctors show. In the wake of increasing dissemination through the media, aesthetic well-being is gaining more and more importance.
Hair loss has long since ceased to be an unalterable doom to which one must feel at the mercy of. For this reason, hair transplants are now offered in almost every country. However, the differences in quality with which patients are treated are sometimes very great. A high technical standard, experience and constant further development are important factors when assessing doctors. Above all, however, the method that hair surgeons offer today is decisive. At present, many practices unfortunately still use outdated treatment methods. Techniques that have a lasting effect lead to a great emotional burden for many patients later on, as they have to live with scars and other externally visible after-effects. Low growth rates lead to disappointment and psychological stress even when modern methods are used, as the expected result does not meet expectations and one's appearance in public due to unnatural hair growth reveals a failed or poor hair transplant.
There are currently only a few internationally successful specialists in the field of hair transplantation. Two of them, whose successes have gained worldwide recognition and made them internationally respected hair surgeons, are now making their wealth of experience and skills available to other doctors in an education and training programme. Dr John Peter Cole, MD, from the USA and Dr Özgür Öztan from Turkey are setting a new course by passing on their knowledge, modern treatment methods and highly qualified techniques to other doctors.
The education and training of doctors is the focus of a recently established training centre for modern hair transplantation
in Ankara, Turkey. Doctors from all over the world who would like to learn or further their education in the field of hair transplantation are welcome to learn about the variety of modern surgical instruments and how to use them under practical application.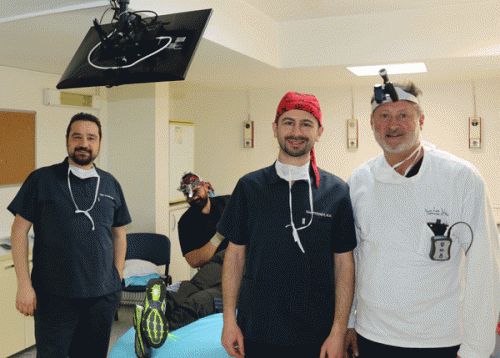 From left: Dr Özgür, Dr Akin, Dr Khan, Dr Cole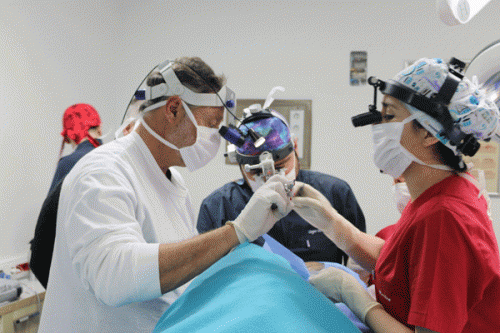 From left: Dr Cole, Dr Özgür and a staff member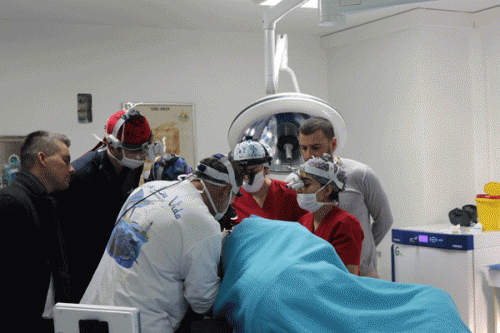 From left: Andreas Krämer/Hairforlife, Dr Khan, Dr Özgür, Dr Cole, clinic staff, Gökhan Dogan (Hairlineclinic clinic manager).
Appointments for training, education and further training, FUE workshops
FUE workshops, training and courses are arranged on a group basis. Individual training (one-to-one training) is also possible. The timing of events and training sessions is arranged by appointment. Appointments can be made with either Dr. John Cole or Dr. Özgür Öztan. In future, however, other doctors of international renown will also offer training at the highest expert level at the Hair Transplant Training Centre. Dr. Özgür and his team are looking forward to your visit in Ankara (Turkey)!
More details about the training: Live training on real patients
During the education and training, live hair transplants will take place on patients. This means that every practical application of modern methods and techniques can be practised and learned on real patients using the latest instruments at the clinic in Ankara. The Hairline Clinic and Hairforlife ensure the required patient availability for each training and course. Any liability of the training participants is excluded. All patients make themselves available voluntarily and with knowledge of the training circumstances. Both doctors (hair surgeons) and their clinical staff can participate in the training and education programme. Assistant training also contributes to the success of a hair transplant. However, the clinic in Ankara has sufficiently trained and professional staff, so that the participation of staff from own clinics is not an obligation or a prerequisite.
The contents
The training programme includes a wide-ranging catalogue of training sessions. General and theoretical issues are discussed as well as application-specific training aspects are dealt with in depth and in detail. The essential contents are:
– Basics of modern hair transplantation methods
– Patient assessment and preoperative diagnosis
– Hair transplantation in women
– Selection of the treatment approach / determination of the sufficient number of grafts
– FUE (Follicular Unit Extraction) and BHT (Body Hair Transplant) as modern methods for hair transplantation
– FUE hair transplantation without full shaving
– Details on the techniques and different treatment approaches
– Extraction methods at the donor (back of the head) and in body regions (e.g. beard)
– Use of a punch for the extraction of hair follicles
– Manual extraction from the donor (back of the head) of a patient
– Manual collection from body regions, beard, etc.
– Electrical/motorised collection
– Preparation of extracted hair follicles
– Preparation of the receiving area
– Methods for inserting follicular units (lateral slit, needle)
– Hairline design, growth angle, natural densities
– Medical assistance before and during treatment
– Wound treatment and postoperative care
FUE – Follicular Unit Extraction hair transplantation
The use of different extraction devices for the FUE method is a major focus of the training programme. Both manual punch methods and motorised FUE extraction using various current extraction instruments are presented and applied. All medical equipment is available at the clinic during the training. A state-of-the-art device developed by Dr Cole – the PCID – and manufactured in the USA by Cole Instruments will also be presented. The PCID is a state-of-the-art electronic harvesting device with computer-generated control that currently represents the highest technical standard in the field of medical instruments for hair transplantation. Various removal techniques are learned during manual punch methods. In particular, the differences in application between normal head hair and body hair are discussed.
BHT – Body Hair Transplant (Body Hair Transplantation)
Body hair transplantation (BHT) is currently a complementary method of hair transplantation. Patients who do not have sufficient donor hair in the donor area or whose post-operative results (e.g. scars) after treatment with the FUT method (Follicular Unit Hair Transplantation) need to be re-treated and concealed, can achieve an aesthetically satisfactory end result provided they have sufficient body hair. It is crucial for the success of this type of treatment that the BHT is applied methodically and correctly. In body hair transplantation, beard and chest hair are preferred. However, other body regions can also serve as donor areas for BHT. Likewise, redistribution of body hair in regions with unnatural native hair (e.g. after an accident) is possible. The method is currently only used by a very select number of doctors because it is practically very demanding and body hair is only available in singular follicular units. This means that only single hairs and not multi-grafts are available for transplantation using the BHT method. Body hair transplantation (BHT) is not a substitute for regular head hair transplantation because the hair count is lower than that of normal hair transplantation and body hair can only be used as a donor if sufficient head hair is also proportionally available in the donor area. The results of BHT (body hair transplant) are currently still viewed with reservation by experts. With Dr. Cole and Dr. Özgür, two of the world's most important representatives of this method are available at the Hair Transplant Training Centre for a training programme to introduce the technique, which is not yet very widespread, to the medical profession. Therefore, they know exactly how to assess the application spectrum. Doctors in German-speaking countries in particular are attracted by this training programme, as the method has hardly been used regionally so far and specialisation seems promising.
Accommodation
The training seminars will take place in Ankara, Turkey, at the FUE Hairline Clinic. Participating doctors will be accommodated by the clinic management in the village or in the clinic. The costs of accommodation will be covered by the organisers. German-speaking supervision is assured. Furthermore, Dr. Özgür speaks fluent German and English.
Confirmation of participation / certificate
Participants of the training course will receive a certificate after completion, which confirms their successful participation with practical application. The certificate is issued by the trainers. Dr John Peter Cole and Dr Özgür are members of the ISHRS (International Society of Hair Restoration Surgery), one of the most important societies in hair transplant surgery.
The organisers
Each trainer at the Hair Transplant Training Centre has many years of experience in the field of hair transplantation. Successful, artistic and natural results stand as a guarantee for international reputation in hair transplant surgery.
Dr. John P. Cole (USA) is regarded worldwide as a "pioneer" for FUE (Follicular Unit Extraction), currently the most modern method for hair transplantation. He was originally inspired by Dr. Masumi Inaba, who had discovered the technique for extracting individual hair follicles at an early stage. The minimally invasive FUE method has now replaced the earlier and sometimes still practised methods of large-scale hair removal (FUT) or small hair islands (micro-graft). Dr. Cole has been practising this method since the 1990s and has brought it to the highest level of development with his now trademarked procedure CIT ® (Cole Isolation Technique). The isolation of individual hair follicles was the subject of long research and application before Dr. Cole gained an international reputation as a specialist in this method. After medical studies at Mercer University, the Medical College of Georgia and the University of Missouri, he opened his successful hair transplant practice in Atlanta, USA, which now has further branches in the USA.
He is a member of major hair transplant societies such as the American Society of Hair Restoration Surgery (ASHRS), the American Academy of Cosmetic Surgery (AACS) and the International Society of Hair Restoration Surgery (ISHRS).
He has received several awards from different societies for his results and his work:
Scientific Research Grant and Award (ISHRS), Ten Year Attendance Pen (ISHRS), Five Year Attendance Pen (ISHRS), Michaelangelo Award and Archimedes Award (both Italian Society of Hair Restoration Surgery), DHI Bronze Medal 2000 and DHI Gold Medal 2002 (both Dermal Hair International Group), Golden Follicle Award 2013 (ISHRS)
Dr. John P. Cole began sharing his knowledge at workshops and training courses at an early age. At seminars in the USA, he has taught several times about treatment methods for genetic hair loss. Live demonstrations of his skills have recently taken place in Denver, Brussels, South Korea, Bangkok, New Delhi and Istanbul.
A special focus of Dr. John P. Cole's interests has always been the development of state-of-the-art medical instruments that meet the highest demands and implement the methods of hair transplantation in a technically advanced way. Coleinstruments has become a brand name for the highest quality in hair surgery (see also the Hairforlife article about the PCID FUE removal device).
Dr. Özgür Öztan (Turkey) specialised in modern hair transplantation methods at an early age. The FUE Hairline Clinic in the capital of Turkey was founded in 2003. Many years of experience and excellent quality make Dr. Özgür one of the most successful doctors in the field of hair surgery. Dr. Özgür uses only the modern FUE method in his clinic.
In the European and international area, he also enjoys a great reputation in body hair transplantation (BHT – Body Hair Transplant). In addition, he takes on patients with special empathy who have had a poor result due to previous hair transplants (repair). The reversibility of faulty treatments with unnatural results can only be guaranteed if one distinguishes oneself through many years of experience and a promising technique. Moreover, the restoration of an aesthetically satisfactory result can only be achieved with the use of highly developed and state-of-the-art instruments. Repair treatments in particular are regularly on the agenda of Dr Özgür Öztan and his team.
Dr Özgür has already trained numerous doctors as hair surgeons in his clinic in Ankara and has since used the manual extraction method of hair follicles to achieve the greatest possible precision and ensure an increased chance of survival.
The manager and patient coordinator of the FUE Hairline Clinic is Goekhan Dogan (Switzerland), who uses his competences in the field of market development, consulting and the development of marketing strategic concepts in order to use the cooperation of internationally successful clinics, among others in Dubai, Turkey and Thailand, for quality assurance and risk minimisation in hair surgery. The focus of his work currently lies in the operative support of internationally operating clinics, the consultation and referral of patients, as well as the selection and training of personnel for clinics in order to contribute to their success through excellent quality standards. Regular visits to clinics and participation in international congresses on hair surgery provide the indispensable know-how for the training courses offered for the education and further training of doctors.
Hairforlife has stood for high-quality hair loss counselling since 2004. Andreas Krämer, the owner of Hairforlife born in Germany, has been active for years as a consultant and agent for hair transplantation on an international level and offers not only hair transplantation information but also individual consultation on the subject of hair transplantation. In numerous TV appearances (SWR, SAT1, 3SAT, ARD, Tele Züri, Schweizer Fernsehen Puls, ZDF Drehscheibe, N24) and media reports (most recently in DER SPIEGEL) Hairforlife has informed and advised a steadily growing public about the modern methods of hair transplantation (more about Hairforlife in the media). Andreas Krämer has been attending international congresses for hair surgery for many years and works for numerous renowned doctors in Europe, Turkey and the USA. Regular visits to clinics and worldwide contact with recognised doctors ensure patients the necessary quality standard to enjoy medically successful treatment methods. Hairforlife is an independent counselling centre. The dissemination of modern techniques and the assurance of quality standards is a special concern of Hairforlife/Andreas Krämer. Andreas Krämer has also undergone several hair operations himself, which can be read in the chapter Hair Transplant Testimonials.
Website of the hair transplant training centre in Turkey in Ankara
For detailed information, please also read the English-language website of the Hair Transplant Training Centre in Turkey in Ankara: www.hairtransplant-trainingcenter.com
Alternatively, for more information and to make an appointment, please send an email to service@hairforlife.ch